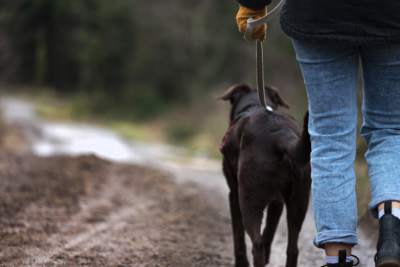 Did you know that up to 59% of dogs worldwide are overweight? With this staggering number, the importance of walking your dog to help keep him fit can't be emphasized enough.
There are many important reasons to walk your dog.
Exercise can help with weight control.
Exercise can prevent muscular, cardiovascular, and metabolic diseases.
Exercise can prevent behavioral problems. Dogs who aren't exercised can become bored. A bored dog can be a destructive dog (or develop other behavioral problems).
It makes your dog happy! Dogs love exploring the smells ("stories") beyond their backyard.
Most dogs enjoy meeting and socializing with others along the way.
They enjoy being with their human social group too!
How much exercise is enough?
Every dog is different. The amount of exercise an individual dog needs varies based on his size, age, breed, and any medical conditions that he may have. Two 30-minute walks a day is an excellent place to start, but if your dog is not used to walking this much, start slower with two 15-minute walks a day. If your dog is older, has health issues, or has been inactive, check with your veterinarian to develop an exercise plan that will best suit your dog.
Human health is also impacted!
Keep in mind that by walking your dog twice a day, you are getting exercise, too! Walking, especially in the woods or forested areas, improves our physical and mental well-being. Consider including other family members for one walk a day. Not only will your dog enjoy the romp with his "pack," your family will benefit, too.
And there is another benefit. Walking your dog can create social connections in your neighborhood. Many people gather at certain times to go on group walks or let their dogs play together at the dog park… while they take the time to chat and socialize. Check to see if your neighborhood has a "dog walking group" or a dog park (but first, be sure that your dog is sociable with others).
Who knew that taking Fido for a walk could have so many benefits to his – and your health? Now, get out and enjoy the season!
Keep it going during the fall and winter
It can be challenging to stay motivated with fewer daylight hours and colder temperatures, but if we cut back on walking, we miss out on the above benefits. Here are a few tips to stay safe and comfortable during early morning and evening walks this season:
Make sure you and your dog are visible to others—wear reflective clothing and have your dog wear a reflective vest or glow collar.
Dress your dog for the elements if needed—consider a doggy coat and booties if your dog gets cold quickly or has difficulty with slippery snow and ice patches.
Keep your dog on a leash at night—even though he can burn more energy running off-leash at the park or in the woods, you won't be able to see the nocturnal critters up ahead that your dog could run into, such as porcupines, possums, and even coyotes.
In extreme weather conditions, skip the outdoor walk and get your dog active indoors. You can try a DIY obstacle course, a scavenger hunt with your dog's kibble or favorite toys, teach new commands/tricks, or go back to the basics for a refresher. These activities will keep your dog moving and engaged and may even strengthen your bond with each other.